Collaboration & Workspaces
Learn about what the future of collaboration looks like in Tana and what Tana brings today.
Welcome
Hi and welcome to this video on Collaboration & Workspaces in Tana!
Collaboration is a core priority for Tana. Yet we're only just getting started. This video will quickly grow stale, but here is a quick run-through of the current state.
What is a workspace
First off - what is a workspace? A workspace is a separate graph in Tana, where you can control who has access, you can create tags for that particular workspace and you can control which, if any, tags from other workspaces you want to allow.
Each workspace has its own library and you can export a JSON structure of the entire workspace.
Setting up a workspace
If you look in your sidebar you can see your private workspace at the top. This is your personal workspace, and it cannot be shared with anyone else. Anything you put in here, must explicitly be shared with other workspaces, so you can be sure that data from this workspace won't be seen by others.
In the bottom of the sidebar, you will find a plus-sign where you can accept invites to workspaces created by others, or you can create your own workspaces. Workspaces you create or accept invites from will be shown beneath you private space.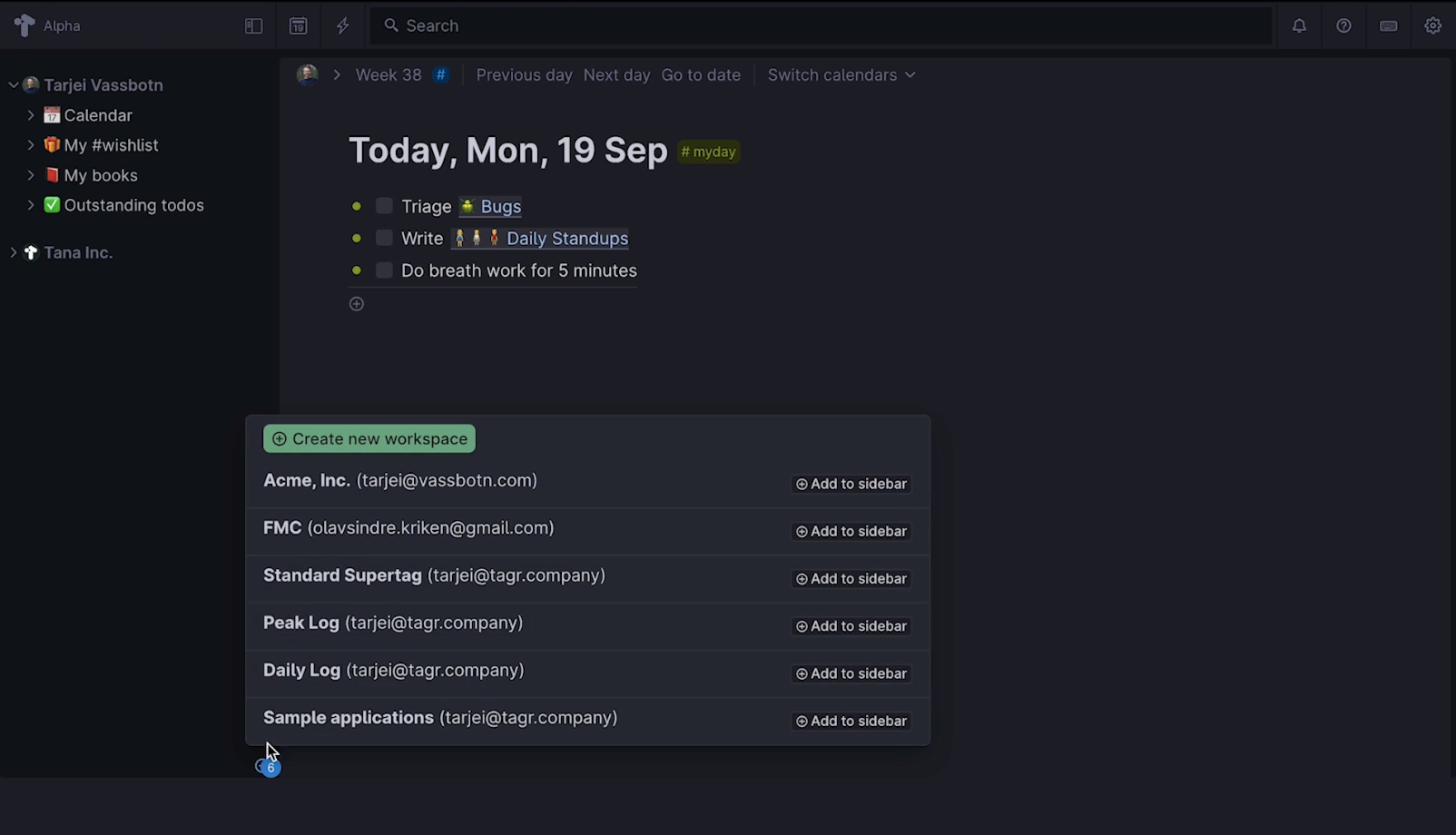 Let's go ahead and create a workspace to share with your team:
Click create workspace, and give it a name

After it's done, you can click the Members options to invite other users to your workspace.

[Note! For now, users you invite must have an existing Tana account]

Once they accept, you'll be able to collaborate in that space.
Working with multiple workspaces
To effectively work with multiple workspaces, it's best to create supertags in the workspace where you want the shared data to live. You can still use the tags in other workspaces, but if you create a tag in your personal workspace and use it in a shared workspace, only YOU will see that tag. Similarly if you link a node from your workspace without moving it over, the title of the node will show, but only you will be able to expand and see the content of the node.
To create a shared tag, simply create the tag in the shared workspace.
Now that we have created this tag, you can add nodes with this tag directly in the shared workspace...
.. or you can create it in your personal workspace.
BUT you need to keep in mind that ONLY YOU can see this information for now.
You'll notice that there's a suggestive action to move the node to the shared workspace. If you click this, the node will be moved to the shared workspace, but a reference link will still be there in your personal workspace. This is very convenient, since it allows you to draft everything up and THEN send it over to the workspace when you're ready to share.
In all workspaces, including your private space, there is a setting to control which workspace tags should be used.
Move to command
You can also move nodes to another workspace with the "Move to" command. By default you have the option to move node to the target workspace Home node, Today or Library. But if you open the shared workspace and click settings, you can create other move targets by either copying or pasting the nodes you want as targets or by @-mentioning them
The future
We've just scratched the surface of what we want to do for collaboration in Tana. We are working on a prototype of a mindblowing chat solution, and we will prioritize easier sharing and external publishing to name a few.
Sign up to our slack community and voice your opinion on what collaborative features you would like us to prioritize!
Until next time, go with the flow!