Santi Younger's Tana Course (Early Access)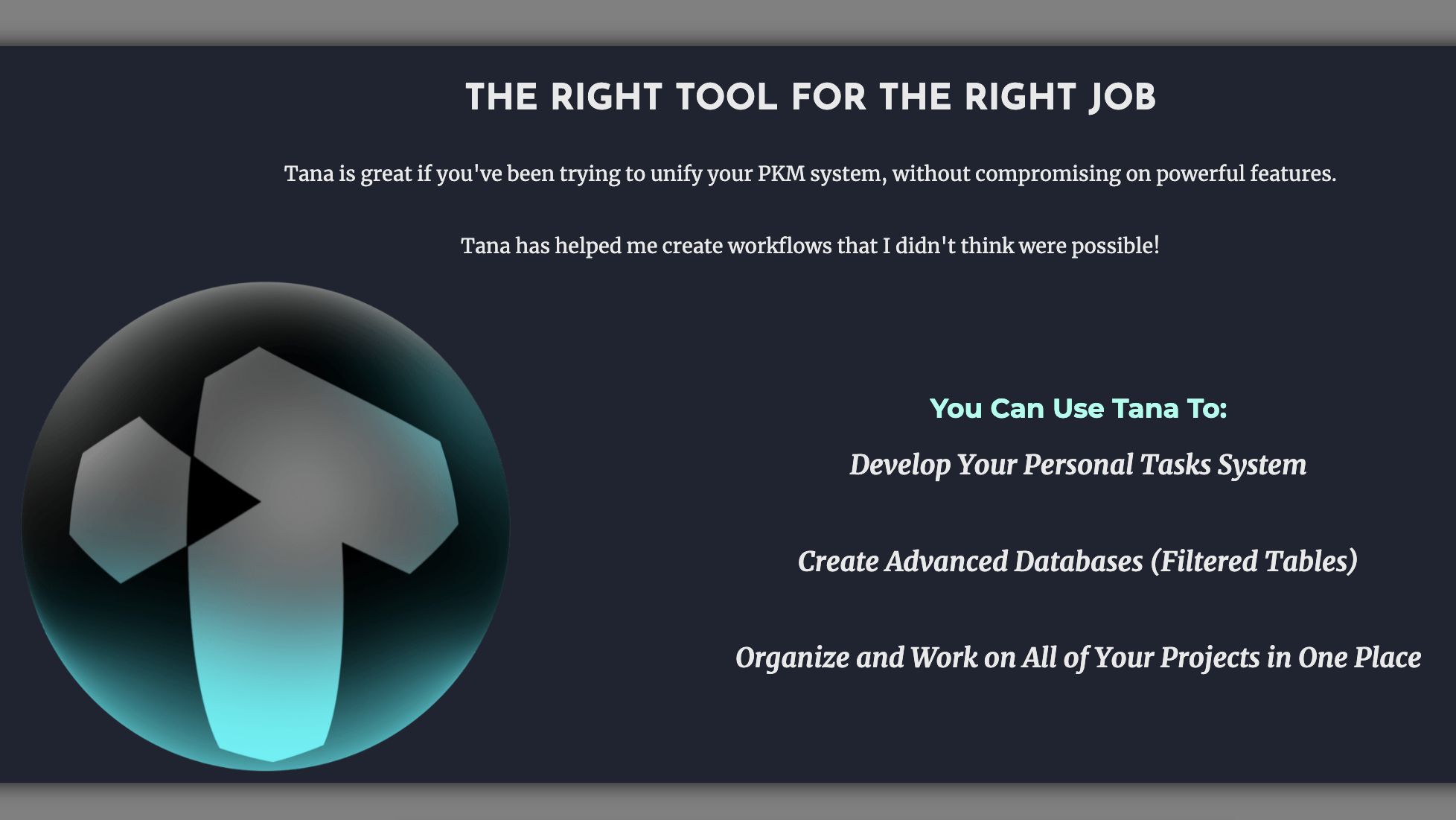 I'll help you speed-up your Tana learning process so that you can start working on what truly matters to you sooner!
Price: $69.99
Link to purchase the course
https://www.santiyounger.com/courses/tana
To see my free content, check out my youtube channel here.
What you get
If you buy now you'll get lifetime updates for the current low price! 30-Day Money Back Guarantee!
If you are not happy with your purchase you get a refund no questions asked.
Unify Your PKM System
Tana has helped me unify my workflow. Previously, I used several apps for notes, tasks, and projects...
Now I can do all of that in Tana.
I don't think there is a perfect all-in-one app, but Tana is as close as it gets.
THE RIGHT TOOL FOR THE RIGHT JOB
Tana is great if you've been trying to unify your PKM system, without compromising on powerful features.
Tana has helped me create workflows that I didn't think were possible!
You Can Use Tana To:
Develop Your Personal Tasks System‍

Create Advanced Databases (Filtered Tables)‍

Organize and Work on All of Your Projects in One Place
Review
David Todd
Santi's easy-going, warm, friendly style coupled with extensive knowledge makes him a great teacher for curious and willing students.

Santi's Tana course is informative, thorough, and easy to follow. I especially like the short but highly effective course videos.

Tana is an amazing product, but for many getting going will be a big lift. I'd recommend this course to anyone just starting out with personal knowledge systems.
David Delgado Vendrell
This course is for those who don't have the time to start exploring Tana by themselves and want to jump straight into this awesome tool.
YOUR DIGITAL MIND
Having good digital systems has helped me avoid feeling constantly overwhelmed.
If you stumbled upon this corner of the internet, you and I are the same. I want to share what I've learned with you, to help save valuable time, and supercharge your PKM system.
I used to overload my brain trying to remember every single task and idea. Now I know I can save every important thought in my trusted digital mind!