Tana Fast Track Course with Ev Chapman (Early Access)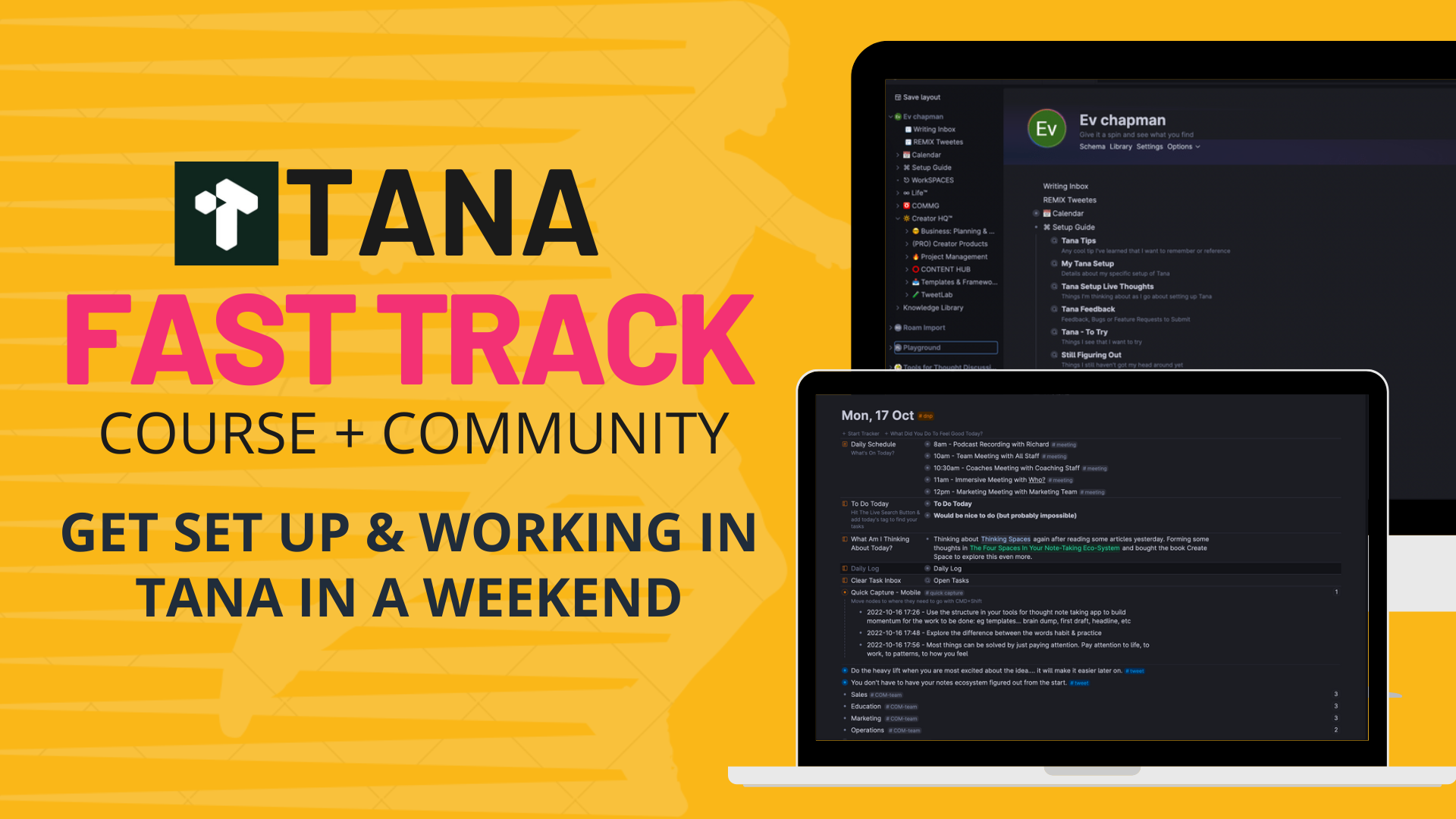 Highly practical, I'll walk you through the Tana Fundamentals, the mindset shift to make Tana work for you and we'll build some common setups together.
Price: $147
Note: This is an introductory price. I want to get as many people as I can up & running & learn from the experience. I suspect the more use cases I add to the course, the higher I will have to price it.
I knew Tana was going to be the tool for me from the moment I saw the marketing video. Nodes + structure all in one tool... a match made in heaven.
In less than 24 hours I had the majority of my Tana setup and ready to go. The Tana team were speechless, people in the Slack community wondered if I even slept (I didn't those first few days)...
But the more I spent time in Slack, the more I realised that for some people there was still a learning curve and they were wandering around their first few days (weeks) wondering if they got it 'right.'
This is why I've created the Tana Fast Track Course 🎉
Rather than spend a weekend down the Tana Rabbit hole wandering around on your own, I put this course together to guide you through the maze & get you set up & working in Tana in no time (in fact you could do it in a weekend).
It's designed to get you set up with everything you need and nothing you don't. No complicated ontologies or setups. Just a quick & dirty way to get you on your way to building a Tana workspace that works for YOU.
Highly practical, I'll walk you through the Tana Fundamentals, the mindset shift to make Tana work for you and we'll build some common setups together.
Take what you need, and dump what won't work for you.
What We'll Cover:
Module 1: Intro To Tana. Learn about how Tana works,
Module 2: The Fundamentals. Learn about the three pillars of Tana & how to use them to get set up: The Daily Page, Supertags & Live Searches. Using only these three tools you'll be able to build ANYTHING in Tana.
Module 3: Common Uses & Setups. We'll cover a bunch of different setups you can use in your workspace including:
The Daily Page Setup

Work Management

Surviving Meetings

Knowledge Management

Creator Organisation

Weekly Review

+ I'll be adding more in the future to keep the course growing.
Module 4: Next Steps. In the final module, I'll give you some advice on building your workspace from the ground up, not overthinking or over-engineering things.
What's Included:
4x Modules to get you started in Tana FAST
Handy Reference Guide for all the setups so you can see at a glance how the setups work (it's built-in Tana so you can insert it directly into your workspace & it auto-updates if anything changes)
One-Click Installs of all the use cases (just paste right into your workspace, not setup required).
Access to the Tana Fast Start community to get support, feedback & ask questions.
Pop-Up Office Hours with Ev
Lifetime Access to course updates
Please note you will need to have a Tana account to implement this course
(If you are still waiting for access you can complete this waiting list form and I'll let you know when invites are available - I get new invites every week for people who purchase the course).
Why Buy A Course From Me?
I've been known to be a great teacher (check out my YouTube videos if you want to get my vibe), cool vibe. Plus, I don't want to push you into my way of doing things... I'll always encourage you to experiment, and find ways that work for you.
Here's what some people have to say:
Some love from the Tana Slack Community 💛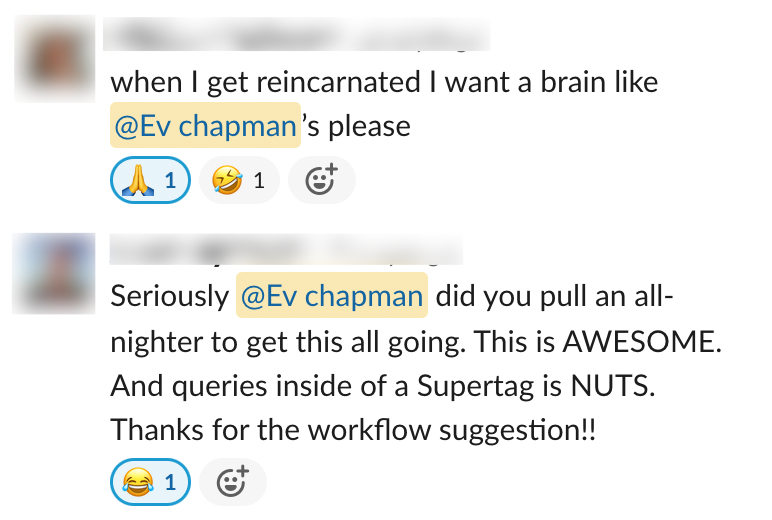 The Tana team were speechless at how quickly I got setup in Tana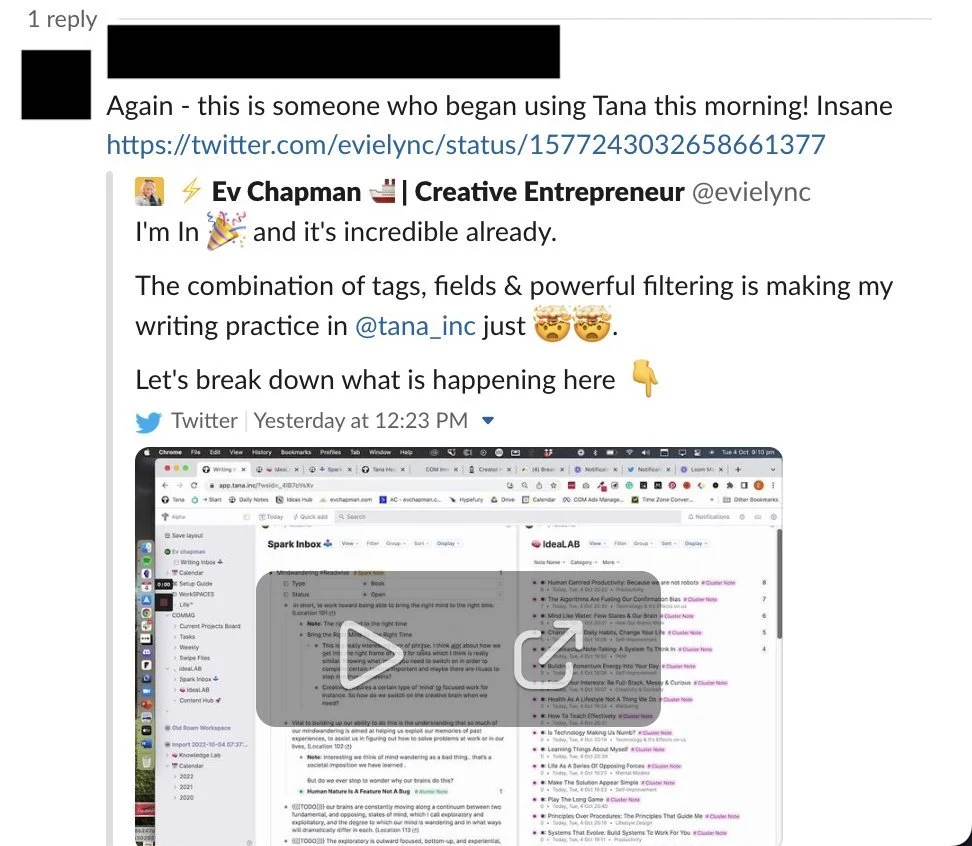 You can just call me your Tana big sister 😄
"I'm a coach and therapist who works primarily in the addiction and recovery space. I create content, courses, and ebooks. I do a lot of reading and research and needed a way to organize that information. Ev's course helped me put all the relevant systems into place, so I can track my workflow on a daily basis. I know exactly where I am and what I need to do each day. She's very down to earth and uses "smooth brain" language instead of a bunch of tech terms. Fantastic course for someone who doesn't want to reinvent the wheel, and just wants to get systems into place and get to work."
-Tamera Martens
"I'm a solopreneur, creator and homeschool my teenager so I have a ton of things to organize. I fell in love with Tana as soon as I saw it and jumped in to get things set up. When I saw Ev was creating a Tana course it was an immediate yes! The course is so well organized and helped me streamline my setup so I have everything where I need it and can focus on getting things done and getting back to my life. I cannot more highly recommend this course! Ev consistently overdelivers in everything she creates and Tana Fast Track is no exception."
-Nicole Folker
"Ev's Tana Fast Track Course saved my time and energy and increased joy in my creative work. Her way of teaching, tremendous knowledge, and deep understanding of what she teaches, combined with her sparkling energy, helped me to build my PKM. Now, I have trust in my system that I'll find what I need when I need it. I found my creative mojo again and can focus on pursuing my life purpose. Thanks, Ev."
-Monika Puskas
Hey, I'm Stephan and I just breezed through the course in a weekend and I absolutely loved every second of it!
I'm currently working as a PhD student in neurosciences and I'm super interested in PKM, Note Taking, Stoicism, just generally being the best version of myself and to reflect a whole lot about myself.
Tana fast track helped me getting into working with Tana from Task and Project Management to advanced note taking, cross referencing and especially setting up supertags and creating dashboards of different parts of my life based on those supertags.
Ev is teaching this course super understandably, communicating her thoughts about Tana's functionalities and how she's getting the best out of those features. This course gave me a deep basic understanding on what possibilities Tana has and how it could fit in my workflow.
I would definitely recommend enrolling in this course since on my own, I would've taken a whole lot more time to get to the knowledge about Tana than after going through this course!
- Stephan Tang
Excellent intro to Tana!
- Step-by-Step instructions on how to implement systems into Tana.
- I feel equipped to jump in and use the systems as described and then edit to make it fit my workflow
- This course will be a helpful resource to go back and review as needed.
Thank you for putting this together. Highly recommend for others to use to get started!
- Paul
You don't have to go down the Tana rabbit hole all on your own. Let me guide you to get set up & working in Tana quickly & easily.