Tana for Tasks (Early Access)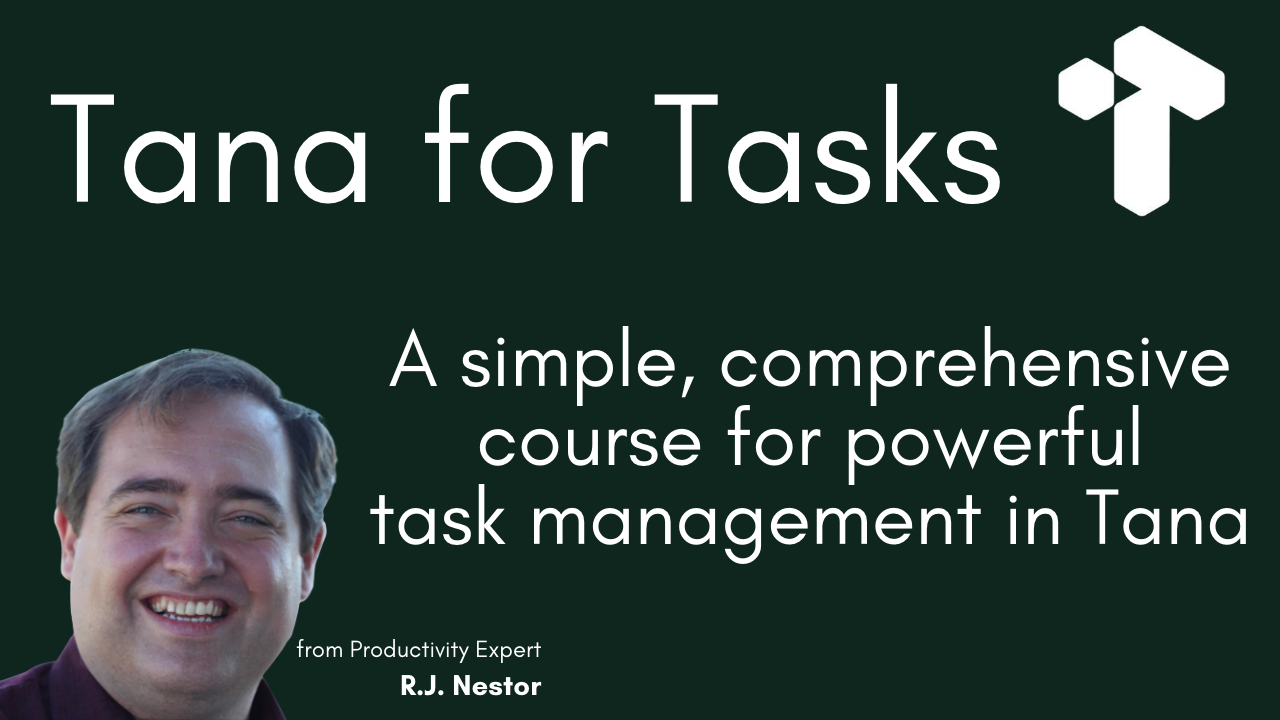 Tana for Tasks is a simple, comprehensive course to help you set up powerful task management in Tana.
Price: $97
A note about Early Access for $97
The $97 price is introductory for Early Access, while I'm still adding the first modules to the course. Once all the course content is added, the price will go up.
Sign up today, get access to the first six modules of the course and the course community, and take advantage of the early access price!
On September 19, 2022...
(I'll always remember the day!)
...my friend Stian demoed Tana for me, and I was hooked. I spent a few weeks exploring Tana's power, and now I'm ready to help you get your task management up and running in Tana.
Tana for Tasks is a simple, comprehensive course to help you set up powerful task management in Tana.
I'm R.J. Nestor, your Productivity in Tools for Thought Guy.
In the past, I've created Powerful Task Management in Roam Research and Your Road to Roam. I'm also currently hosting Cohort Six of AP Productivity, which helps folks dramatically improve their productivity using Tools for Thought.
I've heard a few people say...
"Tana looks great for knowledge workflows and tracking project work, but it isn't really for task management."
That's just wrong.
Tana is incredible for task management (and project/knowledge/whatever else management, but that's icing on the productivity cake!).
In Tana for Tasks, I'll guide you—clearly and efficiently—from adding and scheduling tasks all the way up through project and system reviews (and beyond).
Tana for Tasks includes:
7+ Modules, with 6 available now (detailed below)
Lifetime access to Tana for Tasks community hosted via Circle (which includes access to me!)
Live Office Hours sessions
Lifetime access to course updates, as Tana adds features and grows over time
A Tana invite! (if you need it). 🚨 IMPORTANT: I may not always have invites immediately available, but I will connect you as soon as I do.
Curriculum
Modules 1 - 6 are available now, with Module 7 on its way soon. Modules will be updated—and other modules added—as Tana's feature set grows and changes.
Module 1: Welcome and what to expect
Welcome and Course Overview
Module 2: From todo to a simple Agenda
Creating and scheduling todos (from scratch)

Surfacing the right todos

Automating your day's tasks

Time-blocking tasks around events
Module 3: Simple Capture and Recurring Tasks
Even though there's no out-of-the-box support for Recurring Tasks in Tana, I'll teach you a simple structure and process to get them into your Agenda in less than a minute every day.
Module 4: Task Horizons and Review Dashboards
Expanding your todos' power

Surfacing todos without scheduling them

Diving deeper into Tana's queries

Building a Review Dashboard
Module 5: Managing Lists and Projects
Store tasks in "bins"

Create projects and project task lists

Track projects in different views, including kanban
Module 6: Extrapolating Tana principles
Tana for Tasks is action-first, but we'll take time here to explore what we can learn from our task management that applies to other workflows
Module 7: Procedures, Templates, and Subsystems
Be more efficient, effective, and accurate by capturing reusable work in procedures and templates

Manage similar work (think "deals" for salespeople or "cases" for attorneys) in powerful subsystems
...and beyond!
As Tana matures, I'll add to and update the course!