Terms, Privacy & Security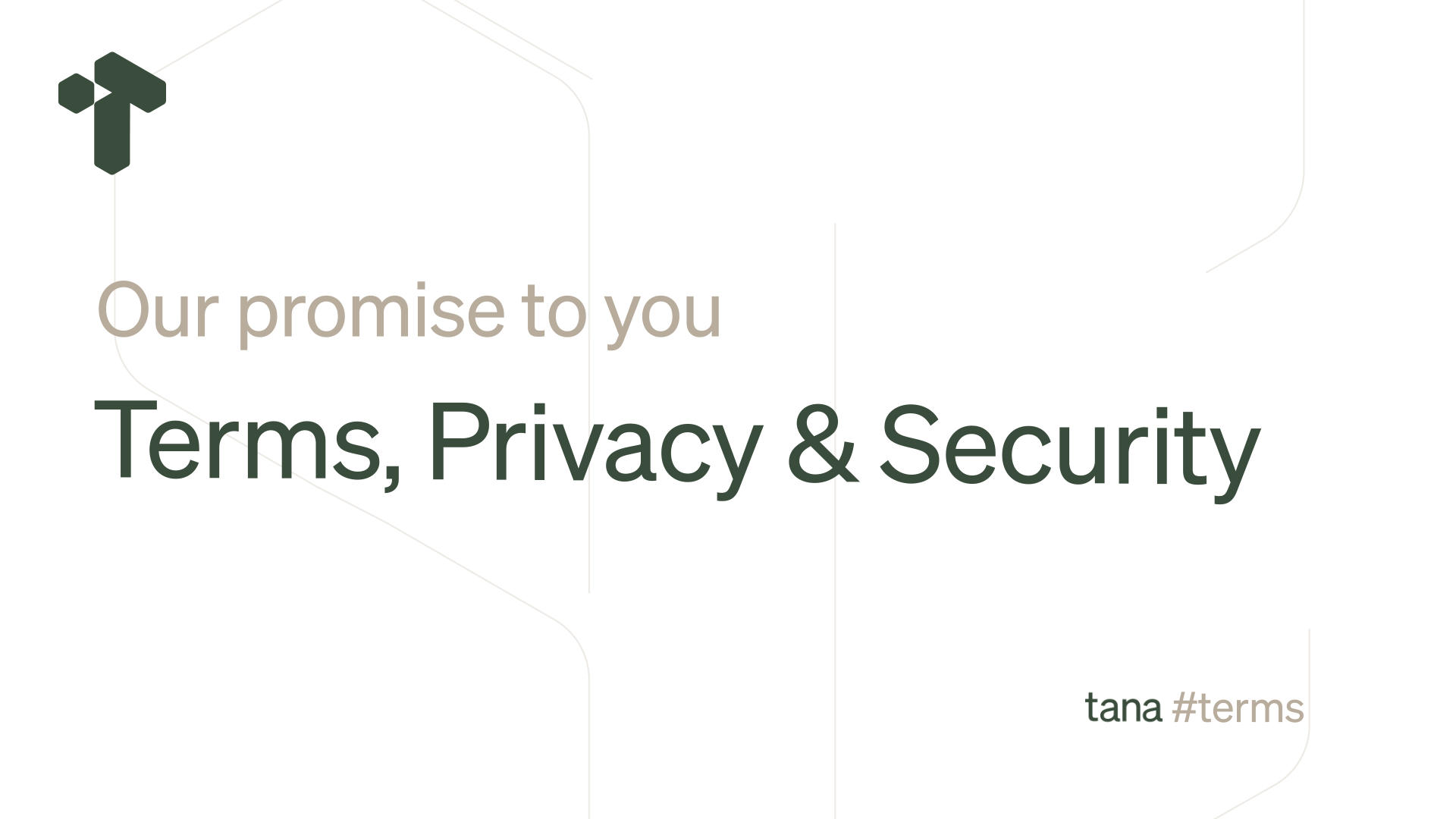 It's your data. We are committed to protecting it
It's your data. We are committed to protecting it
This is not a legal document. It is written to give you a general overview of our practices and philosophy on privacy.
We are working to complete the legal documents for Terms & Conditions and Privacy Policy and will notify you through the community and our newsletter when they're finalized.
It's your data
We will not sell or use your data for advertising.
We won't change ownership or copyright status of the data you put into Tana.
You will always be able to export the data you put in to Tana.
We will not read your private notes
We will not read or access your private notes without written or verbal consent.
Tana employees can not access your private data unless you authorize them.
If, for support reasons, you want to give us access to your workspace, our Data Protection Officer will log the request and can temporarily give our support person access to your data. Tana's current Data Protection Officer is Tarjei Vassbotn, the Tana CEO.
A limited set of Tana employees have access to our production database for safe operations of Tana. We log accesses to our databases and perform regular audits to monitor for unauthorized accesses. If an audit discovers unauthorized access, we will promptly launch an internal investigation and make any notifications as may be required under applicable laws.
We are committed to protecting your data
Security is never "done" - it's an ongoing commitment
We follow industry standard practices, e.g. we use Snyk to keep track of vulnerable dependencies, we have a content security policy (CSP) for the app, and we store data in Google Cloud, where data is encrypted both at rest and on transfer. This also means Google does not have access to your data.
We will periodically perform a Security Review by a trusted and independent third party.
If you have any security concerns, please file them here (link coming).